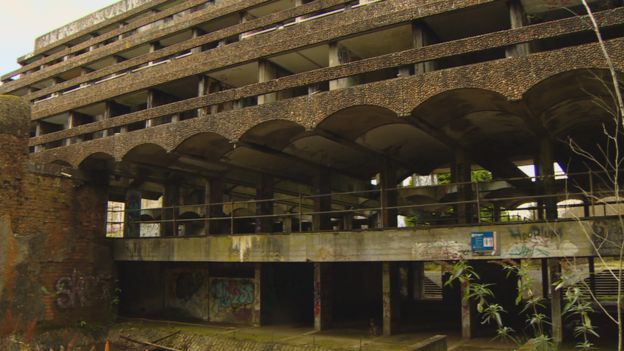 Following the collapse of the project to turn the ruins of St Peter's Seminary at Cardross into an arts and cultural centre by arts organisation NVA, the future for the site has been looking very uncertain.  The site is still owned and managed (i.e. secured for health and safety) by the Archdiocese of Glasgow, who starkly admitted at the weekend to BBC News that the site is an 'albatross around our neck'.
The site comes with significant conservation challenges, and it is a great shame that the development plans which had reached an advanced point were unable to proceed.  Love the building or loathe it, it is arguably an iconic site, arguable moreso in its ruined state with so many possible human responses to it. Ruins and their treatment have been back in the spotlight of late – whether via urbex (highlighted by Bradley Garrett); academic consideration such as De Silvey's 'Curated Decay'; or the British Library's recent consideration of literary responses to ruins.  Much has been written about the Cardross site itself, including a dedicated volume published by Historic Environment Scotland during the time of the most recent rejuvenation proposals.
If ever there was time for serious consideration about the site being an addition to the national portfolio of monuments held in care for the nation either via Guardianship or direct ownership of Scottish Ministers, then this is it.  The state via its national heritage agencies still (I would argue) has a moral duty to act as owner of last resort for important sites such as St Peter's.   It is understood from the BBC News article that the Scottish Government (I assume via Historic Environment Scotland) is currently considering the site's potential future. What better and fitting addition to the Historic Scotland catalogue of sites, which includes so many other religious buildings such as the great Border abbeys, than a 20th century building which can currently find no further use than as a ruin but which plays an ongoing role in the public psyche.  Just as English Heritage has been reinventing its approach to the national heritage estate in England, the opportunity in Cardross for Historic Environment Scotland to do something original at a 'similar but different' kind of site is intriguing – I hope that we may yet see the site as a new 'property in care' for Scotland.